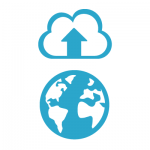 In recent years, cloud computing has been one of three key transformational trends in the world of IT, alongside the emergence of social media and mobile computing. Across the consumer, business and government worlds, cloud computing has had a dramatic effect on how we live and work, particularly with the rapid growth and dominance of applications such as Salesforce, Gmail, Spotify and Netflix. We have finally got to the stage where 'the cloud' is so commonplace and embedded in our lives that the hype around it has petered out and been replaced by the new buzzword, 'big data'!
So what is cloud computing and what career opportunities are there in this space?
There are many, many definitions of cloud. The most common is that of the National Institute of Standards and Technology (NIST): 'a model for enabling ubiquitous, convenient, on-demand network access to a shared pool of configurable computing resources (e.g., networks, servers, storage, applications and services) that can be rapidly provisioned and released with minimal management effort or service provider interaction.'
A little more simply put, it is the combination of a user device (smartphone, laptop, tablet), an internet connection and 'the cloud' – the place where the clever computing goes on and where your data is stored. To the user, none of what goes on in the cloud matters. What matters is that you can use any of your consumer devices and everything syncs up nicely! You write your essay on Evernote on your laptop and then it's magically all there on your iPad and iPhone when you're reading it on the tube.
In March 2013, the International Data Corporation (IDC) reported that cloud computing would generate 14 million jobs between 2011 and 2015. Technical roles include cloud architect, Java developer, and infrastructure consultant. There are of course many sales opportunities in cloud as businesses look to move their software and infrastructure needs to the cloud. The majority of traditional software companies have migrated at least partially into cloud services.
Of course, most of the jobs in cloud have simply been taken by people who already work in IT. This has meant that there hasn't really been a huge chasm of demand for people with a cloud skills set, as supply has kept up with demand. However, most of the jobs will involve a profound knowledge of particular technologies such as Salesforce, Windows Azure or Amazon Web Services.
With such a disruptive technology trend, it hasn't been all good news for the job market. Software as a service (SaaS) means the software required by a company's employees runs smoothly and the company is therefore less reliant on its IT department to maintain and fix issues.
There are opportunities in cloud computing for newcomers as well as experienced IT professionals. Salesforce are running a BizAcademy programme that helps young people develop the skills to work in their company and the wider industry. Your best qualification is still a computer science degree for technical positions with a particularly strong knowledge of Open Stack, Salesforce and Windows Azure. There are various professional qualifications and certifications to be had from companies such as IBM and VMware.
Whether you enter into a role intricately linked to the technology or not, the cloud is certain to impact your IT career.
James Alexander is a Programme Executive at Intellect, which provides the highest quality of service and intelligence to members in the ICT industry, helping them to make the right business decisions to deliver commercial solutions and achieve growth and profitability.