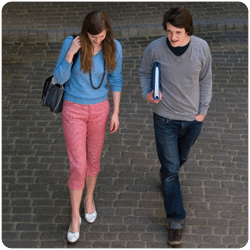 According to the High Fliers report The Graduate Market in 2016, 32% of entry-level positions for graduates are filled by people who have already had work experience with that employer through placements, internships and vacation work. Over half of recruiters warned that they were unlikely to offer a job to graduates with no work experience.
Work experience, placements and internships have become an integral part of graduate recruitment for many leading employers. The recruitment process you go through to secure a work experience position is similar to those applying for graduate positions. This means you could already be part way to securing a graduate position by the time you start your placement or internship.
The number of work experience places in accountancy and the professional services industry is on the rise. Within the UK's 100 best-known and most successful employers alone, 2,337 were on offer for 2016, an 11.3% rise from the previous year. Work experience is a great way to show employers you have the interest and ability to work as a chartered accountant. The experience can give you an understanding of the industry and help you to decide whether or not this is the career for you, as well as looking great on your CV, possibly helping you secure a graduate position.
The two main types of work experience are internships and placements. Placements, also known as 'a year in industry' or 'a sandwich year', are opportunities available with specific degrees to take a year out of studying to work for a company in a related industry. Internships usually last 6-12 weeks, are not linked to a degree course and are normally undertaken in the summer months.
Placements
Some accounting, business and finance degree courses will give students the option to take a placement year as part of the degree. Some firms based locally to universities may offer placements, especially if the school of study has good business links. Larger national employers may offer these programmes too; over half of companies in the High Fliers survey offered industrial placements. Placement years can help you to:
Gain invaluable industry experience
Increase subject knowledge, potentially helping with your course marks
Build employability skills
Apply the theory from your degree
Earn money to support yourself through your studies
Help secure a graduate position post-graduation.
Most universities that offer placement years will have a dedicated department to assist your placement search, but students can also search for and contact employers. University careers fairs can be a good place to start.
Internships
Internships are often completed over the summer holidays. Larger firms often have formal programmes available, normally for second year students. If you are interested in an internship, the key is to research and apply early: the ideal time to find out about application deadlines is at the end of your first year. Formal internships are popular among students, as they can provide up to 12 weeks of experience.
Accountancy internships are usually paid, but smaller firms may offer shorter, unpaid internships to individual students which can be equally as useful.
Find and apply to accountancy internships and placements in our dedication section.
Alternative types of work experience
Unfortunately in today's competitive market there are not enough opportunities for every student interested in work experience. Therefore it's important to continually think about building your CV while at university. If you haven't been able to secure work experience in chartered accountancy, have you considered…
Volunteering as a treasurer for a university club or society? Being treasurer of a sports club could prove useful in an interview situation and on a CV. This role demonstrates to employers that you will have experience of budgeting, basic accounts and expenditure. It will show that you can balance work, study and outside interests as well as hold a position of trust,accountability and authority.
Your part-time job? Employers always look for customer-facing experience, as it is crucial to an accountancy role. You could also ask to be involved in company stock takes. OK, no one likes working late, but putting this in your CV shows some of the key skills required for an audit and shows that you are committed, able to take on extra responsibility and have a good understanding of a commercial business. You'll be able to comment on which products sell well and potentially which are a bad investment, all from your Saturday job.
The relevance of your gap year experience? If you have travelled, maybe taught English abroad, think about how this could benefit a future employer. You can work across cultures, work alone or as part of a team, meet different people and possibly speak foreign languages.
So the truth is, while internships, work experience and placements are useful to securing a training agreement, other experience you gain through university life and in part-time jobs can also benefit future employers with transferable skills and commercial awareness.
Getting the application right
Engaging with employers is just the first step to gaining experience. Many undergraduates fall short on the quality of their application. Poor written English (yes even from English graduates), bad spelling, not answering the questions and missing deadlines are nothing a graduate employer hasn't seen before. To ensure an application is the best that it can be, complete it in plenty of time and don't be afraid to ask a careers adviser, or trusted friend, to read through it.
The recruitment process for work experience can be just as rigorous as for a permanent graduate role, and involve online tests, interviews and assessment centres, depending on the employer.