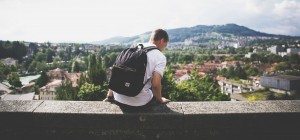 With summer drawing to a close, the start of a new academic year is just around the corner. While you're all busy packing and moving into new student digs, it's not too soon to turn your mind to your future career.
We fully encourage you to spend fresher's week doing what it's intended for – having fun, meeting new friends and trying out new activities. But instead of binge-watching that series on Netflix, why not spend just one day getting a head start on your future career.
10am: Easing you in, this first task can be done from the comfort of your own bed…
We suspect you'll be spending a large chunk of your fresher's week on social media anyway – so why not make it productive? Check to see if your university careers department has a Facebook page where you can keep up to date on events, jobs and careers advice. Follow employers of interest on Twitter to be notified of their latest vacancies, deadlines, open days and webinars. If you did an internship or insight over summer, be sure to update your LinkedIn profile before you forget the finer details of the tasks you completed and skills you gained. If you haven't yet set up a LinkedIn profile, now is the time. It can seem daunting at first, but if you have an up to date CV it really is quite simple, start by reading our article on how to use LinkedIn to kickstart your graduate career.
 Next, update your existing social media profiles to ensure that they portray the best image of you to prospective employers. Embarrassing pictures from fresher's week make great memories but perhaps not the best first impression. Find out how to use social media professionally in our graduate job hunter's guide to social media.
 Don't forget to follow us on social media and sign up to our email alerts for sector specific career advice, jobs and events.
 12pm: Hungry? Head down to your university's Fresher's Fair and get your hands on some free pizza. While you're there go and check out the society stalls. University is full of amazing social clubs you just won't find anywhere else once you leave. We all know that extra-curricular activities are great for the CV – and what better time to explore your options than in fresher's week when a huge number of clubs and societies promote themselves. You will find a range of finance and consulting societies to get involved with but you don't have to limit your choice to finance specific clubs, why not take on a relevant role in a society that interests you? Being the club treasurer is a boost for any finance CV.
3pm: Head home via your university careers department; it will be your good friend throughout your time at university, if you choose to use it (and we recommend that you do!).
 Throughout the Autumn term your university will host many careers events where you can meet employers and find out more about the sectors you are interested in. This is a great way to work out if an industry or particular employer is the one for you. You will gain much more from talking to employers face-to-face than from their website as you will have the opportunity to ask questions, get a feel for what it's like to work there, and practise your networking skills. It is unlikely that these events will actually take place during fresher's week, but it is worth spending some time now at the careers service or on their website, deciding which events you'd like to attend. It's important to be fully prepared, so before the day of the fair or session, make sure you read our top 10 tips for getting the most from a recruitment exhibition.
Find out what events Inside Careers will be attending this Autumn. You can even apply to come and help us as Events Assistants – a great way to earn some extra money and boost your CV!
3.30pm: Before you leave don't forget to pick up the new Inside Careers guides! Inside you will find everything you need to know about the profession, profiles from current employees, application and interview advice and a comprehensive Employer Directory, in which your future employer could be waiting.
4pm: The rest of the day is yours to enjoy. No plans? Why not get tucked up in bed with a hot drink and a good book (or career guide…).
-Katie